I just bought a new smartphone. After three HTC models (Desire Z, One X, One M8) I decided to go for the pure Android experience with a Google Pixel 2 (I went with the Clearly White, non-XL version). Here are my thoughts after two weeks.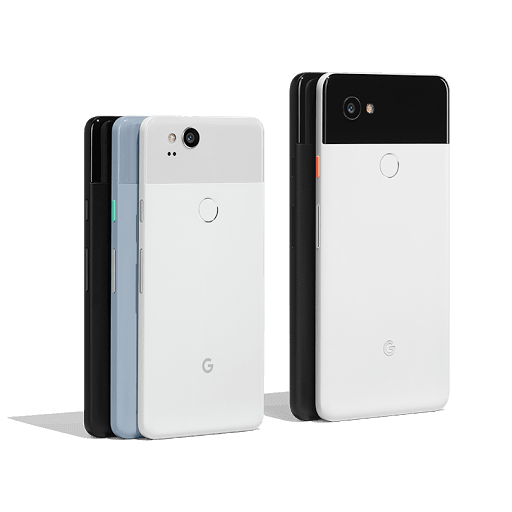 The first thing I noticed was the speed. Booting it up for the first time took what I remember as mere seconds. Coming from a 3.5 year old smartphone, this was a big improvement. Not so relevant on a daily basis, but a good first impression. But the Pixel 2 also feels very snappy in use, especially compared with my old smartphone burdened by the newest, hungriest apps.
The second great thing I noticed is the screen. It looks fine, but what I'm really happy about is its ability to reduce the brightness to a fairly low level so I don't get blinded in low light conditions. I guess older OLED smartphones might have been able to do the same, but it's certainly the first smartphone I have owned where I have been satisfied with the low brightness level. The automatic brightness adjustment is also excellent. On top of that, the Night Light feature is great. As a Redshift (similar to f.lux) user I was happy to see it built in to the OS.
Third, the battery life is good. As a test, I skipped charging one night, and just used it regularly two days in a row. When I went to bed the second night, it still had 19% left. And that's even with two battery-eating always-on features enabled: Ambient display (showing date, time, and notification icons) and Now Playing (which does offline analysis of ambient sound to identify playing songs).
The Stuff People Talk About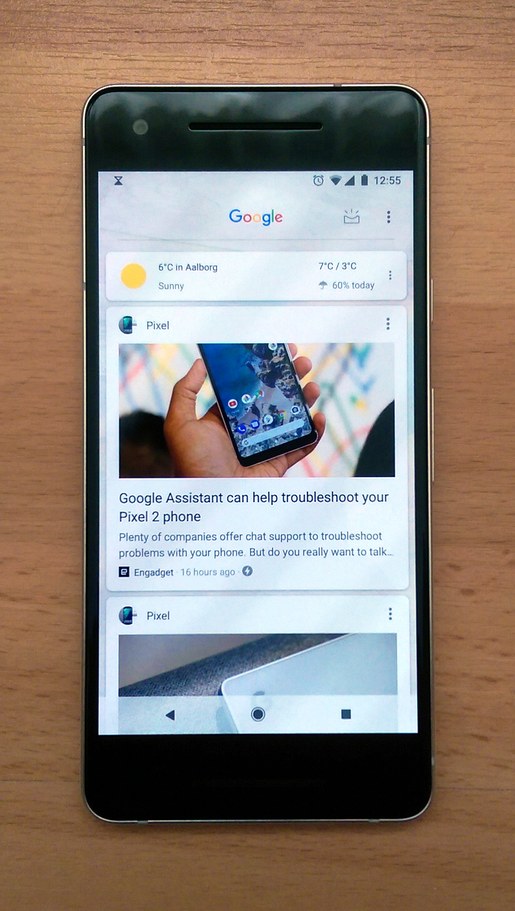 On-device song identification is pretty cool. Another hypey feature is the "Active Edge" which let's you squeeze the sides of the phone to activate Google Assistant. It's fun to play with, but not very useful in my opinion. I have to shift the phone in my hand to squeeze the right area, and half of the time, the "meat" of the base of my thumb folds up and taps something unwanted on the screen. So it's better to just launch Assistant the regular way: by long pressing the home button.
In other news, the bezels have taken flak for being too large for 2017. And I guess they are. On the plus side, I can comfortably reach both top and bottom of the screen with my thumb, and they have room for front-facing stereo speakers.
They didn't leave room for a headphone jack, though. The phone's packaging included a (somewhat bulky) converter but no wired USB C headphones — to get more people to look at the Pixel Buds, I guess.
Finally, the Pixel 2's camera is supposedly really, really good. I don't disagree so far, but I'll know more when I get around to trying it somewhere more picturesque than my desk.
Small Annoyances
Overall, I'm fairly satisfied with the Pixel 2. But there are a few small annoyances:
No support for Miracast - only Chromecast
The Pixel 2 is not officially for sale in Denmark, which means that the Google Store webpage will not even acknowledge that the Pixel 2 or its accessories exist, if you access it from Denmark without tricks
The ambient display, which is white text on a black background, strobes, which you can see when you move the phone around
Dust and debris gets stuck in the speaker grills
The device/screen vibrates when the speakers are playing, which can be felt in the 120–700 Hz range
The power button and volume rocker require too much pressure to press
Most Android 8 notifications can be expanded/collapsed, to which a large part of their surface is reserved. This means that unlike older Android notifications, I kinda have to aim when I tap them.
Going for pure Android is not as cool as I had imagined, and the default launcher and dialler are disappointing
Since the bezels are there anyway, a fingerprint reader on the front would be nice, for those times I want to use the phone flat on the table
Come to think of it, many of these feel like a step down from my HTC One M8. But they're not a big problem compared to the improvements in speed, screen blackness, camera, and battery, all in a thinner, lighter body.
I'll get to see over the coming months and years if the "full Google experience" is worth the price. At least I should be getting updates quickly for three years, which is better than many OEMs. I just hope the Pixel 2 will stay snappy as the updates come.