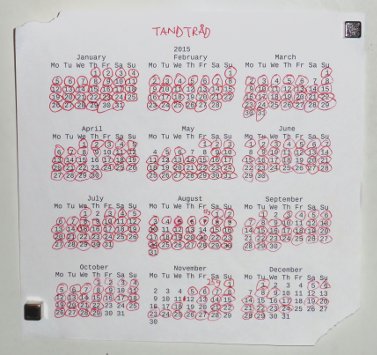 The calendar helped me floss (more or less) daily.
If you are already starting to forget about your New Year's resolutions, here's a tip to keep going: Visualize your progress: Put X's on a calendar on every day you do what whatever you want to do more of. Stick the calendar on the wall or wherever it would remind you of your goal.
Some years back, each time I visited my dentist, she recommended that I floss. And I would decide that this time I would start doing it. But some days later, I started slipping and forgetting about it. It wasn't until I put a year-at-a-glance calendar on the bathroom cabinet door that the habit stuck.
Putting a mark on a calendar is not rocket science, but the satisfaction of marking a completed task and of seeing your progress is a mental reward that can make a big difference. If you want to try, I made a one page 2016 calendar you can print (LibreOffice/odt, Word/docx). (It was easily made with the open source ncal utility, invoked as ncal -bh 2016.)